There seems to be a theme, in a number of the books I've read, being that a woman's confinement within an asylum has been part of some great conspiracy to, as I've noted before, silence them.
This is the kind of thing I'd love to study, and write a paper on. And I might just do that!
The Asylum — where do I start?
The Asylum, by John Harwood, is another great find in the "neo-Victorian" historical fiction genre. The characters, narrative, and atmosphere reeked of rich, Gothic elements. Just about every convention of the Gothic literary genre can be found in this novel.
The heroine of the novel, Georgina Ferrars, wakes up in Tregannon House (an asylum) with no memory of why or how she got there. Dr. Maynard Straker informs her that she came of her own free will, under the name of Lucy Ashton, but then suffered a seizure (causing her to lose her memory). Desperate for answers (and for someone to confirm her sanity), Georgina pleads with Dr. Straker to contact her only living relative, her uncle Josiah, so that he may identify her.
Now pay attention, dear readers, for one of our first Gothic conventions!
Her uncle swiftly responds, informing Dr. Straker that Georgina Ferrars is in fact at home with him, stating,
Your patient must be an imposter. (14)
Dun dun dunnn! Doppelgängers! I was just waiting for this line to come, "But if you're there, then who's…?" but sadly, it didn't.
Now, I've mentioned a theme of silencing women — that is, I've found in my readings of "neo-Victorian" literature — by committing them. In The Asylum, there are a number of motives behind silencing Georgina Ferrars. The doppelgänger, of course, has her own motive — she wishes to take Georgina's place. This was a very interesting, very different, kind of "silencing" for me to read in the genre. I haven't as yet come across one like it, where the silencer or oppressor wasn't a man. Though, in reading further, you will find there is a lot more to it than simply trying to take someone's place, it soon becomes about erasing a person entirely. But, why would you want to erase the evidence of someone? I'll leave that for you to figure out, because I assume you'll go buy the book now.
The structure of the book was a little confusing, as the narrative moves through time, back and forth, but I took little issue with that. Each character and setting was so richly defined, I always knew which character was the focus (Georgina, Emily, and Rosina). The characters were all three-dimensional, and their desires and motivations believable. Save for one. But I'll get to that in a minute.
It is certainly a difficult feat, creating such depth for most, if not all, the characters, considering a number of the characters and their actions are conveyed only through a series of letters. I wished there could have been more play on that; the notion of the unreliable narrator, because the reader finds the story, or series of stories, through the eyes of three different characters.
However, there were so many characters it was hard to keep up. I especially had difficulty figuring out the family trees.
I actually drew up a family tree to help me keep track. When I get the chance I'll post it up.
Spoilers from here. Do not read further if you do not wish for the book to be spoiled. Well, who wishes for a book to be spoiled anyway?
And, it proved difficult even remembering Georgina's and the doppelgänger's identities. I don't mean confusing them together, I mean, their names kept changing! (Draws in long breath) First it's Georgina Ferrars. She admits herself to the asylum as Lucy Ashton, but it's discovered the name is actually Lucia Ardent (and that 'Lucy Ashton' was just a disguise), except that Lucia Ardent is actually the name of the doppelgänger. Then, Georgina discovers her mother is not actually her mother, so instead of Ferrars, she's actually a Mordaunt! So, she's Georgina Mordaunt. (Releases breath).
My years of watching soap operas did help keep me up to date though 😉
I would have easily rated this book a Wuthering Heights, or Wormwood: A Drama of Paris, were it not for the ending. It wasn't the type of ending that bothered me (though you know I have a particular love), it was the 'bad guy' spiel, the I'm-going-to-tell-you-everything-of-my-plans-because-I'm-going-to-kill-you-anyway-and-it'll-be-of-little-consequence-should-I-do-so speech that every bad guy gives. It's one of those cliches I could have done without, and it really bothered me after Harwood worked so hard to build this eerily beautiful and sublime Gothic atmosphere — one which won me over so easily.
I felt the 'bad guy' spiel undermined all of that (the atmosphere, story, plot, etc), and cheapened it, really, to the point that I groaned loudly when reading it. And it didn't seem plausible that Dr. Straker was the big bad — I warned there'd be spoilers! He seemed suspicious and guilty of something, yes — perhaps in not being completely honest with Georgina — but it was rather elaborate the explanation behind all the incidents, behaviour, etc. One key example is the explanation behind Georgina's seizure and subsequent memory loss at the beginning of the novel. I honestly groaned and rolled my eyes upon the revelation. I didn't like it, but to Harwood's credit, I never believed Dr. Straker when he said Georgina had a seizure — it was all too convenient that she couldn't remember why she was at the asylum in the first place. I didn't trust Dr. Straker even then, but it didn't develop; there wasn't enough to justify his actions at the end.
Really, to me, the 'bad guy' spiel seemed to come across as a clunky means of tying up loose ends (or answering questions the reader may have had), and creating a convenient justification for actions, and whatnot, unexplained. But, I guess, that is pretty much the motive of a 'bad guy' spiel, isn't it? Why else would you have one?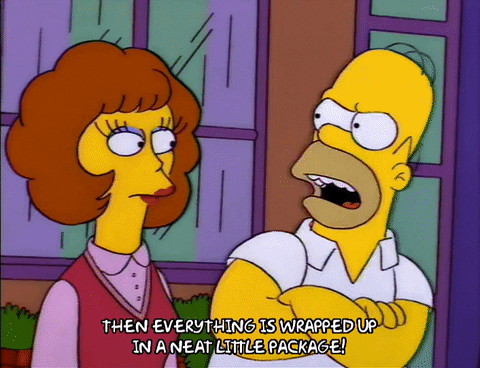 And so that leads me to the other reason I decided on a lower rating — it just was not believable to me that Dr. Straker was the big bad, especially when considering the story and plot. His motives were minuscule and, frankly, I did not understand them. It was essentially a Dr. Jekyll/Mr. Hyde moment, except there was no build up to it — it was completely unexpected, and not in a good way. At least, not in my opinion.
One of Georgina's greatest villains in the novel — the doppelgänger — becomes a meek shell of a person who doesn't completely own her actions. Instead, this grand villain becomes the epitome of the Canadian never-ending apology…
It seemed a little convenient for Georgina to be able to face her daemon finally (who had a mountain of motive, mind you), and forgive her so easily. Let's recap though.
The doppelgänger (and main villain of the piece), Lucia Ardent, knows that Georgina has been falsely committed — it is revealed she is the one who sends the telegram, on "behalf" of the uncle. She is aware that Georgina has been trapped roughly five months in that damned asylum. She always had ill intentions, as she confesses at the end of the novel. And so, I simply cannot grasp Georgina's ability to forgive so readily. In fact, Georgina decides that she will help keep Lucia out of prison for her crime.
Is it merely because there was a greater evil at work? That they had a common enemy in the end?
If I could go back in time, I'd tell past Cadence, "Stop about 80-90% in. You won't like the ending." Still, you guys know what I'm like. I like tragedies, I like sad or open endings, and I like the absence of 'bad guy' spiels.
BUT, revelation after revelation, this book was full of surprises and kept me on my toes. Despite the semi-predictable love elements to the story (even the one of a taboo nature!), there weren't a lot of instances of me going, "Well, I knew that was going to happen!"
Again, the atmosphere and characters were rich and well-defined, and I'm always a fan of a bit of epistolary writing — another lovely Gothic element!
If I had stopped 80-90% in, I would have rated The Asylum a Wormwood: A Drama of Paris, or even a Wuthering Heights, but because I read to the very ending, I had to change my rating. So, instead…
I rate this book a Tess of the d'Urbervilles.
The scale:
10. Wuthering Heights – Emily Brontë
9. Wormwood: A Drama of Paris – Marie Corelli
8. Tess of the d'Urbervilles – Thomas Hardy
7. Rebecca – Daphne du Maurier
6. Harry Potter and the Prisoner of Azkaban – J.K. Rowling
5. Fox in Socks – Dr. Seuss
4. The Da Vinci Code – Dan Brown
3. The Catcher in the Rye – J. D. Salinger
2. Dune – Frank Herbert
1. Fallen – Lauren Kate
0. 50 Shades of Grey – E. L. James
Read more about the scale here
---
Image credits: Kate Beaton
Hardwood, John. The Asylum. Mariner Books: Boston and New York, 2013. Print.